Mercury Outboard Cranks But Won't Start 150 175 200 EFI
Information on this page pertains to motors that crank but will not start as a result of ignition system faults. Details and data provided herein apply to 2002+ Mercury outboard 150, 175, 200 electronic fuel injection engines with a starting serial number of 0T409000 and above.
An engine that cranks but will not activate and begin to work refers to when a motor's crankshaft rotates but does not cause the internal combustion engine to turn on and start running. There can be dozens of reasons why a Mercury outboard cranks but won't start. Some of the causes and solutions can simple while others fairly complex, and subsequently, require specialized tools to diagnose the source of the problem.
An engine that cranks but will not start up is often a result of a piece of equipment within the ignition system that has failed to function normally. That said, this write-up will only focus on ignition system troubleshooting as opposed to other possible causes for an engine that cranks but won't fire up e.g. internal powerhead damage, low compression issues, water in engine, low or no fuel pressure, etc.

NEVER "spark" or briefly touch the marine battery terminals with the battery cable connections so as to check for polarity.

NEVER detach battery cables while the engine is in operation.

NEVER reverse the order of the battery cable connections. The marine battery negative cable is (—) ground.
Before you begin to troubleshoot the ignition system, inspect the following:
Inspect the ignition switch and electrical harness to be sure it is not the source of the problem.

Inspect that plug-in connectors are interlocked and the terminals are corrosion free.

Check for disconnected, frayed or cut wires and for short and open circuits.

Make sure all wire connections are tightly secure and corrosion free.

Perform a thorough inspection of all electrical components, that are grounded directly to engine, and all ground wires to see that they are grounded to the engine.
Ignition Troubleshooting and Fault Chart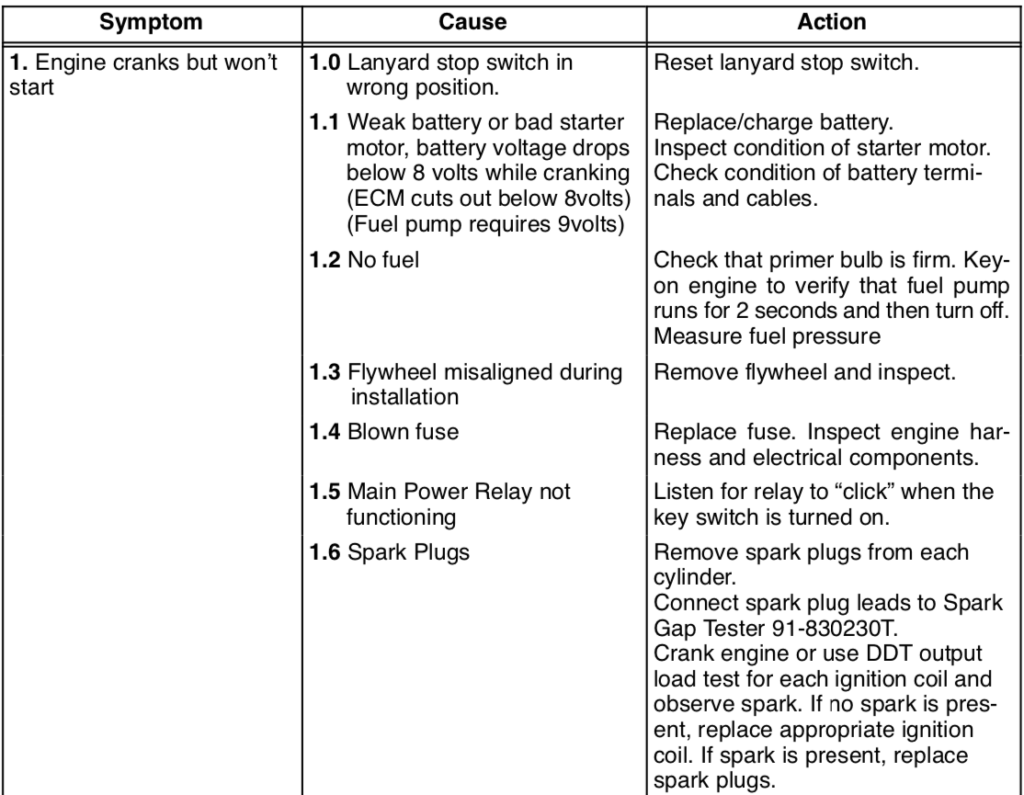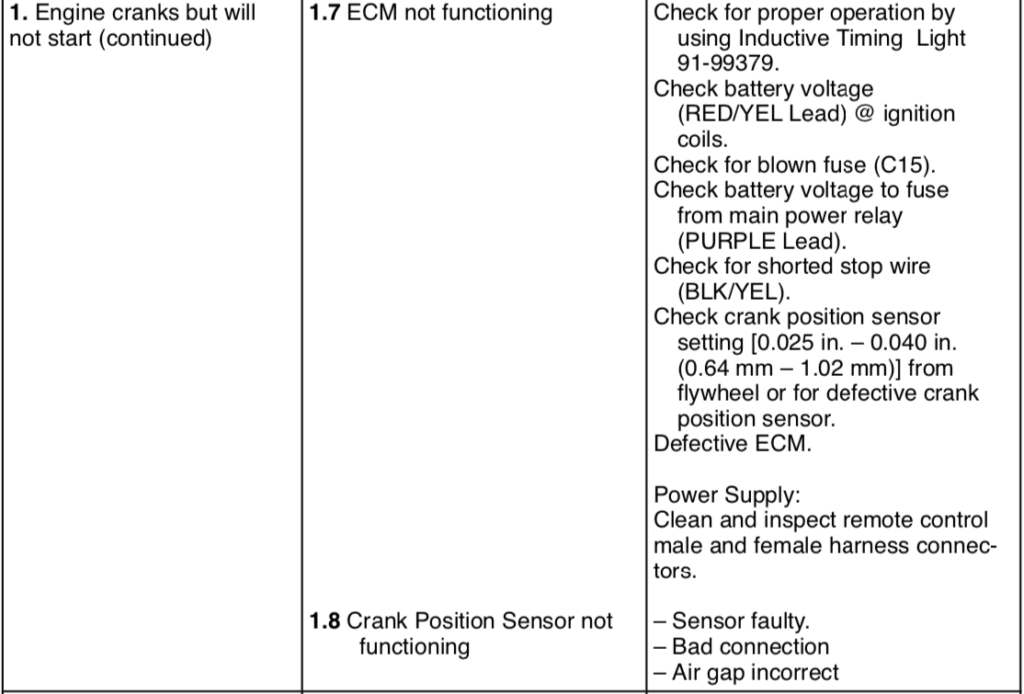 If your mercury outboard 150hp 175hp or 200hp EFI engine still cranks but won't start after you've followed all of the above instructions, use the comment box below, provide me some details of what you have and have not tried, and I will do my best to provide you with more information so we can get your engine up and running again.