How to Remove Dodge Caravan Fuel Pressure Regulator (2002-2003)
This article details factory service procedures for removal and installation of the fuel pressure regulator on 2002-2003 Dodge Caravan and Grand Caravan minivan.
Fuel Pressure Regulator Description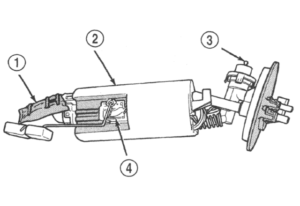 The Dodge Caravan fuel pressure regulator is non-adjustable and maintains fuel system pressure at a continuous rate of roughly 400 ±34 kPa (58 ±5 psi). The 2002-2003 Dodge Caravan fuel pressure regulator contains a fuel return valve and calibrated spring as well as a diaphragm. The calibrated spring operates by pushing down on the diaphragm which in turn closes off the fuel return port. The minivan's fuel system pressure reflects the precise amount of fuel pressure needed to open the return port. The Dodge Caravan fuel pressure regulator is a mechanical device and is not under the control of engine vacuum or the PCM.
Removal
The fuel pressure regulator is affixed to the fuel pump assembly. You will need to pull out the fuel pump module from the vehicle's fuel tank to gain access to the fuel pressure regulator.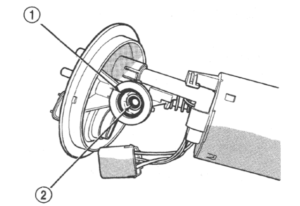 Spread tangs on the pressure regulator retainer.

Use enough force to separate the fuel pressure regulator to extract if from its housing.

Be certain to take away both the lower and upper O-rings from their occupied positions after the regulator is removed.
Installation
The Dodge Caravan fuel pump should last approximately 100,000 miles or more. If your minivan has surpassed this milestone you should consider replacing the complete fuel pump unit.
Use clean motor oil to lightly lubricate the O-rings and place them back into opening in pump module so they are ready for use.

Push the regulator into opening in pump module with enough physical force to get it seated.

Fold tangs on regulator retainer over the tabs on housing.
Use this free downloadable factory repair manual as a reference when servicing your vehicle. The book will help you get your minivan up and running fast and properly. The manual is a better reference in terms of technical correctness and is a valuable resource for any minor or complex repairs.