How to Change Differential Gear Oil Yamaha Grizzly 450
This 'how-to change front differential gear oil' instruction guide is specific to 2003 to 2010 Yamaha Grizzly 450 vehicles.
A differential gear is a set of toothed gears that work together in allowing an all-terrain vehicle's wheels to rotate at different speeds when driving around corners. The differential gear lets one wheel revolve faster than the other, resulting in a smoother turn. Differential gear oil, termed drive gear oil, is an anti-wear lubricant used to minimize friction. Its purpose is to lubricate and cool the differential gears. Without differential oil, the set of gearwheels would begin to overheat as a result of metal-to-metal contact. Use this guide the next time you intend to change the differential gear oil on your Yamaha Grizzly 450.
Periodic Maintenance Chart
Differential gear oil maintenance is critical for preserving the life of the differential assembly. If your all-terrain vehicle is equipped with an hour meter or odometer, refer to the mile (km) or hours differential gear oil maintenance intervals. If the machine has sat in storage for a long period of time, use the month maintenance schedule.

Checking Differential Gear Oil Level
It is important to examine the differential and gear oil for leaks or to inspect its fluid level. Check the differential gear oil level using these instructions: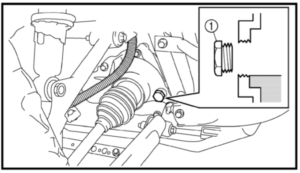 Position 4-wheeler on a flat even surface.

Unscrew and remove oil filler bolt (1), see image.

Check the differential gear oil level.

The gear oil should be at the top of filler hole (1). Add differential gear oil to correct level if it's below the brim.

Install oil filler bolt. Torque bolt 23 Nm (2.3 m • kg, 17 ft • lb).
Changing Differential Gear Oil
It is important to swap out old differential gear oil and replace it with new oil, especially if you recently had a leak. Leaks are sometimes caused by oil contamination. Make sure no contaminants or debris enter the differential gear case while the oil filler bolt is removed. Use these instructions when replacing the differential gear oil.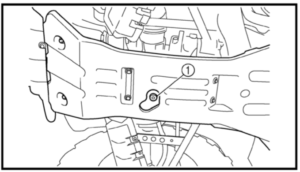 Put vehicle on level surface.

Place oil drain pan underneath differential gear case.

Remove oil filler bolt and drain plug (1), see image. Replace drain plug gasket if damaged.

Drain gear case oil and re-install drain plug.

Torque drain plug 10 Nm (1.0 m • kg, 7.2 ft • lb).

Fill differential case, see oil change specifications.

Inspect differential gear oil level.

Install oil filler bolt, torque 23 Nm (2.3 m • kg, 17 ft • lb).
Gear Oil Change Specifications
Manufacturer gear oil change requirements are listed below. It is not required to use Yamaha Friction Modified Shaft Drive Gear Oil. You can substitute gear oil with one that is equivalent.
Periodic oil change: 0.23 L (0.20 Imp qt, 0.24 US qt).
Total amount: 0.28 L (0.25 Imp qt, 0.30 US qt) 2003 thru 2007 models.
Total amount: 0.25 L (0.22 Imp qt, 0.26 US quart) 2008 thru 2010 models.

Recommended oil: Yamaha Friction Modified Shaft Drive Gear Oil (Part No.: ACC-SHAFT-LU-00) or SAE 80 API GL-4 Hypoid gear oil.