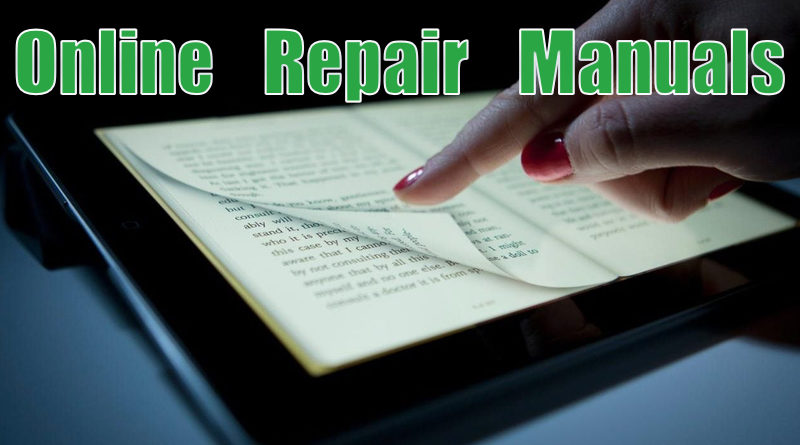 Online repair manuals mean just that. View or download, via Internet, an electronically transmitted book of instructions for learning how to do maintenance, service and overhaul to a vehicle or machine, free of charge. An online repair manual, also termed online service manual or workshop manual, is a book of repair instructions that give detailed information telling how to perform routine maintenance or repair work on a vehicle or machine.
Choose the type of online repair manual you need by clicking the specified link. Then select the appropriate year and/or model. 
Online auto repair manuals are digital guidebooks containing information about how to fix or service a road vehicle that is powered by an internal-combustion engine or electric motor.
Online auto manuals are not just electronically delivered files that teach you how to fix a four-wheel road vehicle that is powered by a gasoline or electric engine. Automotive manual refers to truck and sport utility vehicle books, too. Whether it be a heavy pickup truck or small compact car, we've got a free online manual for your automobile.
A motorcycle is a two-wheeled vehicle, termed motorbike, that is powered by an engine and has no pedals. There is a free online repair manual available for virtually every motorcycle in existence including scooters, street bikes, choppers and dirt-bikes. 
Most all motorcycle repair manuals are small .pdf handbooks that can be downloaded with ease from one computer system to another. In rare cases, some manuals might require special software to process and download the data—we do not link to those type of manuals.
ATV Manuals
An on-line ATV repair manual, short for all-terrain vehicle repair manual, is an e-book that instructs the user on how to perform routine maintenance or repair work to the four-wheeler.
Online ATV repair manuals are in digital form. It provides detailed instructions telling how to restore the machine back to working order. The e-manual's are the same book of instructions that dealership technicians and local mechanics use to keep your 4-wheeler in good condition.
Snowmobile Manuals
We all know what a snowmobile is. It's a a motor vehicle with ski-like runners in the front and caterpillar tracks in the rear, for traveling over snow.
An online sled repair manual is an instruction book used by mechanics to take apart a snow-machine in order to examine it and repair it if necessary. These electronic books are developed and published by the manufacturer to guide the manual user through every aspect of maintenance or repair. 
Jet-Ski Manuals
An online jet-ski repair manual is a reference book available on the Internet. The digital book provides instructions on how to fix or mend a small jet-propelled vehicle that is used to skim across the surface of water.
Online jet-ski repair manuals include troubleshooting guides, maintenance instructions, disassembly and assembly procedures for the entire vehicle. The handbooks are written so as to teach the manual user how to service the watercraft gradually and carefully from one stage to the next. 
Marine Manuals

Marine repair manuals can be accessed online from any location provided you have an Internet connection. That means if you are close to shore and your outboard or inboard motor breaks down, you can go online to view a manual to understand what's wrong with the motor and how to fix it. 
Marine manuals include jet-propelled boats, inboard, outboard and sterndrive manuals of every make and model.
Generator Manuals
Online generator manuals are small files, usually less than a hundred pages. That's good news because if you need access to an online repair manual for a generator, it probably means your Internet is down—but your cell phone can still communicate with nearby cell towers and retrieve data.
A small 6 megabyte online generator manual will download to a cell-phone in seconds. These life-saving manuals will help you get your generator running again so you can convert mechanical energy into electricity.
Free Manuals
These complimentary manuals can be observed without cost or payment on any digital device maid for that purpose. Obviously they are only accessible while so connected to the World Wide Web. Some manuals are best viewed on a personal computer or tablet as opposed to a smartphone.
Most online repair manuals, or service manuals, are in .pdf format, which is a file format that looks like a printed book. No special software is needed to view or download a manual. Some digitally delivered handbooks are rather large—up to 450 MB. However, most manuals are under 100 MB—small files.
In very rare cases, if you cannot download or view a manual because of "insufficient storage available", it means you've used up most of your device's available memory. To fix this, you'll need to delete media or apps to make space; or add external storage via Micro SD card. Online repair manuals can also be saved on Google Drive instead of your own device.